News
11 Tips for Maintaining the Auto Radiator
Auto radiator is an important part for automobile engine. Its main function is to protect the automobile engine from damaging for high temperature. If there is something wrong with the automobile engine, maybe the reason is from the radiator. So it's necessary for you to maintain the radiator. Here are some pieces of advice. Hoping this will be helpful for you.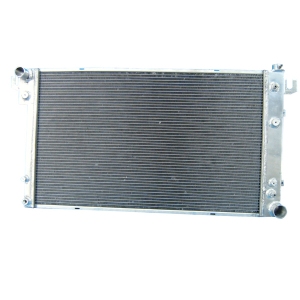 (1) In order to prevent the each part of auto radiator from corroding, please prevent the radiator from touching any acid, alkali or other corrosive substances directly.
(2) When adding water, please prevent the cement or sand from coming into the pipe. It's possible that the cement blocks the inner system of radiator. And it leads to scale deposit.
(3) When using the antifreeze liquid, you must use the qualified antifreeze liquid in order to prevent the radiator from corroding.
(4) Don't damage the radiating fin and radiator when installing the racing radiators. Therefore, it can't affect the cooling capacity and seal ability.
(5) You must twist up the drainage valve of automobile engine block before adding water. When the water flows out, twist up the drainage valve at once. It prevents the bubble from appearing.
(6) You should often check the water level when using. If you find the water level is too low, you should stop the machine and decrease the temperature of water. And then adding the new water. Open the cover of water tank slowly when adding the water. The worker must keep away from the filer, in order to protect worker from scalding for the high-pressure steam oil.
(7) You should discharge the water if you don't need the car for a long time. It can protect the slug from cracking in winter. You must add the antifreeze liquid when using the auto radiator in winter.
(8) The standby radiator should be put in a dry and ventilative place.
(9) Clean up the core every one or three months according to your practical situation. It prevents the core from blocking. So it can't affect the radiating function.
(10) You can clean the water gauge every three months. Please take down every parts. And you can clean them by water and non-corrosive detergent.
(11) There must be dust for driving through various places. It's easy to block the surface of the radiator. It's likely that it leads to many faults. Such as: the engine is too hot; the cooling effect of air conditioner becomes worse. You can use a pump and a piece of rubber pipe to blow away the dirt.
Maintaining the motorcycle radiator is a momentous factor that can improve the efficiency of engine. I hope this sheds light on how to maintain the auto radiator. In summary, don't forget to maintain the radiator.
Related articles: