Company Profile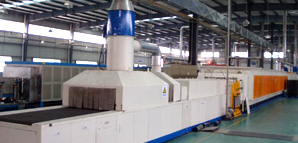 This is one of the Chinese largest manufacturer groups for performance cooling system, aluminum racing radiators, auto radiators, auto silicone hose, etc.
Shanghai Speedmaster Auto Parts Co., Ltd specializes in performance cooling parts.
SPEEDMASTER establishes four factories in China mainland. These factories can supply all aluminum radiator, intercooler, oil cooler, silicone hose, forge aluminum fittings, etc.
SPEEDMASTER is the largest manufacturer for all aluminum radiators in China. Now we have over 2500 models for most racing radiators and over 3500 models for plastic tank radiators. All racing radiators can provide high performance for your tuning cars. We also can produce intercooler, oil cooler, silicone hose,etc.
SPEEDMASTER is the most professional manufacturer for silicone hoses. We can provide silicone hose and kits not only for intercooler, turbo system but also for racing radiators. We can provide high performance silicone hoses with best quality and most competitive prices.
SPEEDMASTER also has extensive supplier net and can source other performance products for different clients.
SPEEDMASTER can supply auto performance production lines as below:
1) High performance radiator
2) Intercooler and piping kits
3) Oil cooler and related kits
4) Higher performance silicone hose and kits
5) Exhaust parts
6) Other performance products
7) Custom products
SPEEDMASTER has over 6,000 models of products. They are shipped to customers in North America, Australia, New Zealand, Malaysia, Japan and other countries. We offer high quality, timely delivery service and fast shipping services. Now our R&D department is developing other performance products that meet the demands from different countries.
SPEEDMASTER's goal is to deliver the highest performance and most efficient products at a reasonable price. Customers' satisfaction is the lifeblood of SPEEDMASTER and SPEEDMASTER wants to meet each customer's specific needs and manufacture the products you desire and according to your exact specifications.
SPEEDMASTER welcomes domestic and overseas customers' orders. Please contact us for more information.