News
How to Clean the Auto Radiator?
If you find that the cooling system of your car is not quite good, you may consider about checking the auto radiator instead of changing the air conditioner of the car. The auto radiator is so crucial to main a sound work of the engines of cars. The blocking auto radiator may also lead to poor cooling condition of cars. Many people refer to professional car maintenance companies to clean the auto radiator. In fact, such work can be done on your own if you know some simple ways to clean it.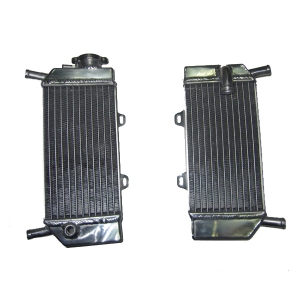 To clean the dust and corrosion on the auto radiator, you have to prepare some cleaning tools such as anti-freezing liquid. Before you start to clean the auto radiator, you have to make sure that the engine of the car is cool. After you open the engine hood panel, you should fix it stably. Then you may refer to brushes to clean the dust on the aluminum radiator. Of course gloves are necessary to get your hands from the cleaning detergent. In the cleaning process, just remember to clean the auto radiator along the direction of the designs because contradictory direction may make the crispy metal easily deformed.
After you have cleaned the motorcycle radiator, remember to wash the part you have just cleaned with flowing water to make sure that the dust has been removed. Special detergents may be used in the cleaning of corrosion. Cooling agent is also needed in removing the corrosion and impurities of the car radiator. You may leave cooling agent in the car radiator stay for 15 to 20 minutes. Then use clean water to wash the cooling agent with corrosion and impurities. You may connect water hose with the car, but do not release heavy water in order to control the flow of the water.
After you have cleaned the racing radiators, you may not quickly see any difference in temperatures in the car. But you will soon see the results of auto radiator cleaning for a while after the car is initiated. Regular auto radiator cleaning is quite good to maintain sound running of cars, and it should not only be done after you find there is something wrong with the cooling system of cars, but also be a habit of drivers. One time a year is preferable. The cleaning of auto radiator is not so hard for drivers so that they may clean it on their own.
Related articles: