News
The Great Market Demand for Auto Hoses
Now each automobile is made with many supportive devices, such as aluminum racing radiators and so on. With the great popularity of automobiles currently, the auto hose is needed at a large scale. Therefore, it is not exaggerating to say that auto hose is with great market demand now. However, different kinds of auto hoses are used in a different way, so that manufacturers in this field may make different reactions towards different market demands and applications of auto hoses. Actually, auto hoses are divided into different categories in terms of materials, functions and other aspects and principles.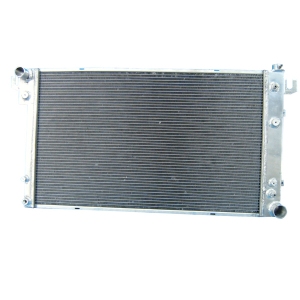 In terms of materials, there are many kinds of auto hoses, such as auto silicone hose, fluorine rubber, butyl rubber, hydrogenated nitrile rubber and so on. Those different materials may be combined to form a new kind of composite material, which would be used in a different way. Improvements are made on the materials of auto hoses, in order to make the auto hoses to be more durable, with wonderful performances to resist from heat and fuel. Auto hoses are used in different cars according to different materials and strengths of them. For example, fuel hose, which is made from fluorine rubber epichlorohydrin rubber in the inner layer, is quite popular among many world famous car manufacturers, such as Audi, Polo and so on.
With the application of R134a air conditioning refrigerant, air conditioning hose is also quite popular now. Besides, it is not only used on cars, it is also used as automotive radiators. Air conditioning refrigerant with composite structure is the most popular one. Resin and rubber are the most popular material that could make composite air conditioning refrigerant. Such air conditioning hose could help to resist from high temperature and it is said that it could be working when the temperature is in the range from -40℃ to 140℃.Now more and more manufacturers in this field start to produce air conditioning hose in order to make benefit from the great market demand for such hose.
There is no doubt that auto silicone hoses manufacturers and motorcycle hose manufacturers now face an increasing market demand for their products, so the key problem is how they make use of the opportunity. They may focus on one kind of hose, however, most of them try to enlarge their business by manufacturing different kinds of hoses of different materials, serving for different purposes.
Related articles: