News
The Excellent Performance and Security of F1 Race Cars
The Life-saving HANS device
The invention of HANS device is undoubtedly one of the milestones in the security development history of race cars. The HANS device was originally developed by Bob Hubbard, a professor from Michigan State University, for rowing activity. After that, Mercedes-Benz adopted the HANS device and introduced it to the F1 motorsport after conducting a little alteration. In the 2003 season, HANS device became the compulsive security device in F1 race.
HANS device is installed on the shoulders of the car racers, making them look like football players; by restricting excessive movements of the heat and neck, HANS device could function to protect the racers during accidents; it gives maximum protection to the fragile neck of the racers. The invention of HANS device is one of the most important security breakthroughs in severe injuries.
High tech materials and manufacturing methods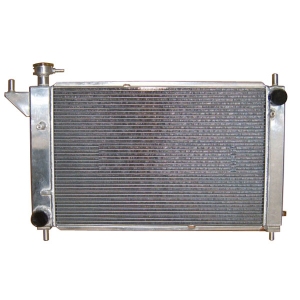 A majority of F1 race cars are made of a type of high tech material named carbon fiber. This low density material originally used in aerospace industry possesses extremely high intensity and capable of providing massive protection for car racers when unexpected incidents occur. In addition to car body material, racing radiators have experienced improvement on manufacturing material as well. Generally speaking, race cars adopt aluminum in auto radiator; the light and highly effective aluminum has not only ensured excellent heat dissipating effects but also enhance the security of the race cars.
Material is not the only aspect increasing the security of the race cars; the manufacturing methods of F1 race cars also comprehensively reflect the concept of security.
First, the surrounding driving cabinet and the audi exhaust system of the racers will be made of materials with the highest intensity during the design of the race cars in order to maximally protect the security of the racers.
Second, there are two anti-roll hoops installed on the front wing of the car as well as its cockpit and auto intercooler. This device is designed to control the weight of the race cars during its rolling process for the purpose of protecting the heat of the car racers.
Third, to protect the car racers from hitting by the loosened tires in the accidents, wheel bolts will be fixed on both the front and rear suspensions of the race cars. Although the intensity of wheel bolts might fail to withhold the huge impact in accidents occurred on highway, its performance anf functions are being constantly strengthened in recent years.
Fourth, other security measures on race cars include: one rear warning light of extremely high visibility to be turned on in raining days; specially made tank shell and auto exhaust system to prevent it from being damaged in accidents; an interior inserted extinguisher to put out the fire caused by the engine.
Related articles: